Too many ideas. Not enough ideas. Busy. Bored. Peaceful and calm. Frazzled and Stressed. Content. Discontent. Smooth sailing. Hitting a snag.  Life has these cycles.  I've come to recognize them in my own life. There will be times when I am just riding the wave–I feel energetic and productive and lovable and balanced–and then it all seems to slip away and I am left wondering what to do next.
I can see myself in the low part of the cycle right now. I don't feel depressed…but I feel like I am not sure what I'm doing.  I feel off balance. What to write about?  What to eat? How to get my house in order? How to keep the girls from fighting each other or me? How to not be impatient with them or my husband? How to fit everything in to 24 hours?
Everyone has these days, no?  It's easy to feel lonely when you are going through it. Especially when your low coincides with someone else's high. It makes your low feel even lower.
Whenever I get this way, I try to take a minute to step outside of myself and view the situation from the outside. Are things really so bad? No they aren't.  Once I've come to that realization I have to make a decision about what to do next. I could either wallow, or I can pull myself up out of the muck and carry on.  Just keep swimming. Put the pen to the paper anyway.  Move on.
A certain set of pins comes to mind–many seem to be "Pins to Nowhere" (I think those are the ones that Pinterest frowns upon). Anyway, I'm sure you've seen them–it's the "Keep Calm and" series. It's good advice. Sometimes to get back to center we just need to keep calm, breathe, be. For me, a quiet morning writing about 'nothing' can be just what I need. 
It got me thinking about some good advice from another place for inspiration:
So that is what I am meditating on this morning…
We all have lackluster days now and then. We all have bad hair days. I'm not talking about anything that requires therapy or drugs–I'm talking about those days when you just don't feel like yourself and you don't know why. How do you get through it?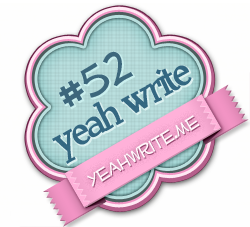 This post is linked at: Yeah Write #52