Playing 5QF again this week!  Head on over and join the fun!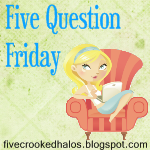 1. 

What is one grammar issue you cannot let go without correction?
Christine – For those that don't know, I have my BA in English. So, it would seem, I could be a badge carrying member of the grammar police. But I make my fair share of mistakes. As much as it pains me to see "it's" instead of "its" or "there" instead "their," I've been guilty of committing these same errors when I am trying to write quickly and don't put my proofreading glasses on. I don't typically go around correcting grammar. Phrases like "I seen this guy" grate on my ear, but my Dad uses "I seen" phrases regularly. I would never think of correcting him– He's 58 –So I'm pretty sure he's not interested in hearing his oldest daughter tell him he's wrong. Even if he was okay with it, his use of the phrase would be a hard habit to break. Out of the mouth of my dad, it has become endearing. I save my corrections for when someone specifically asks me to proofread something, or if I'm helping my kids with something for school. It's not my job to police friends, neighbors, and loved ones, so, just as I handle most situations, I will continue to lead by example.
Janene – Grammar issues?  Well, I have to with Christine.  I'm not one to go and correct someone.  However, when I see people use "than" instead of "then" it irks me A LOT!  I also can't stand double negatives . . . You know, "I don't have no money" – that kind of thing.  I have to credit my correct grammar usage to my 8th grade teacher, Mike Stitt, who told us that if we use double negatives we will sound uneducated and people will treat us differently.  I know that is an EXTREMELY "snobby" thing to say but it stuck with me because I think in some respects it was pretty honest.  Not to say that we don't all make mistakes.  I'd be the first one to admit that I've read some previous blog posts and wondered what the heck I was thinking when I typed what I did.  No one is perfect . . . which is why I really don't go around correcting people.  Even though it does get under my skin a bit.
2. What's your favorite thing about fall?
Christine – I love the crispness in the air– I love that humidity is low. I love seeing the leaves change their colors. I love pulling out the soup recipes and making other dishes that remind me of cooler weather.
Janene – I can't pick one thing . . . no way.  I love EVERYTHING about Fall!
3. What's your favourite dish to take to a potluck?
Christine – I don't have a favorite. In fact, when it comes to potluck, I like to try new dishes. I'm always looking for something different to bring to a family gathering (They make great guinea pigs. Thankfully we don't have a lot of picky people, so I know they will try almost anything!)
Janene – Umm . . . is it bad to say that I've only ever really gone to maybe 3 or 4 potlucks and every time I've tried something new because I have no idea what you take to a potluck?  This might be one of those questions I read for EVERYONE who does 5QF just to gain some new recipes!  (And find out what they heck is a "normal" potluck dish!)
4. When do you start Christmas (Holiday) shopping?

Christine – Too late, as far as I'm concerned. But a general dislike of shopping, the desire to pay cash for gifts, and the fact that a kid free shopping trip means arranging babysitters and coordinating schedules, is a recipe for last minute shopping. If it were up to my husband we would be shopping for everyone two days before Christmas! But I try to get out there a few times in the month leading up to the holiday.

Janene – We do almost all our shopping online.  I went to Walmart at midnight on Black Friday last year and it just made me love online shopping even more!  I hate the crowds and the price checking and going to 3 or 4 different stores looking for something.  Plus, (and this is in no way a plug for Amazon . . . just the truth) I LOVE Amazon Prime's free shipping!!!  

5. Did you move homes a lot growing up?
Christine – Nope. I had one childhood home and another when I hit middle school and high school, but both were in the same town.
Janene – Us either – we lived in 2 homes as well.  1 from birth to about age 10 and then the next from 10 – 24, when I got married.  Strangely enough – I'm moving back into that house (with my kids, hubby, mom and dad) on the 29th!  Since we are closing on October 3rd and are currently without a house that we want to move into – my parents agreed to let us stay with them until something shows up!
So – fess up . . . what's the potluck recipe you think I have to have?  I'd love to add to my recipe box!
Click on the ad to visit our Highlight Sponsor of the month and visit our Sponsor Us page to find out how you can see your blog or business here: