***THE WINNER OF THE HOLIDAY GLASSES HAS BEEN CHOSEN. CONGRATULATIONS TO: 
and a Thank you to everyone who linked up!***

So . . . are you making your list and checking it twice?  Have you already been to the store and are now back in your pajamas for the day?  Maybe you are like me and decided to do all your shopping online this year – I just don't have what it takes to be a Black Friday shopper!  Whatever the case, we are glad that you are here and hope you will join us for a celebratory party (is that an oxymoron?) to start off another Christmas season!

We hope you had a blessed Thanksgiving and found yourself surrounded by those you love.  I'm sure your turkeys were delicious and the stuffing scrumptious!  Now – on to business!

This marks our 4th More Than Mommies Mixer and we wanted to make it a special one!  So . . . we have decided to host a very special Mixer themed GIVEAWAY!


You can click on the picture to see these at the Etsy site of Sassy Susan!  You can check out her blog here!

To enter all you have to do is link up!  Everyone who links up will be eligible to win (make sure you are playing by the rules).  You can gain extra entries by Tweeting about the Mixer – Tweet and by leaving a comment on the post.   So . . . link up, tweet and comment for your chance to win!  We will add up everyone who does and then pick a winner via Random.org.

Okay – now it's time to PARTY!
The Lowdown on The Mixer:
Our Mixer is designed to help you check out and share 
Blogs
, 
Facebook pages
, 
Twitter Handles
 and 
Pinterest Boards
!  
You can jump on all the Linkys or only the ones that you feel like doing this week.
  We will be here each week: so maybe you want to do GFC on your blog this week and Facebook next week, then hit up the Twitter Boards and Pinterest Boards the week after that.  It's totally up to you!
(Don't make us post bouncers at the door.)
Follow your Hostesses – Christine and Janene from More Than Mommies
Follow our Co-Hostess – Meredith at The Mom of the Year

 

Follow the Life of The Party –

Kera at Nugget on a Budget

! Our lucky tweeter in the spot this week is (we choose a different Life of The Party EVERY week! All you have to do to be in the running is Tweet about us using the #MTMmixer hashtag – 

Follow our Mixologist – In lucky spot #7 this week is our Mixologist, Danielle at Martinis and Minivans  Every week we will choose one participant to get our party started at the #4 slot.  All you have to do is link up (and follow the "rules") to be considered!

Follow the person directly BEFORE you on the hop!  

Finally, we ask that you post one (or both!) of the following buttons in either a post or on your sidebar to let other people know where you are partying today!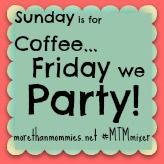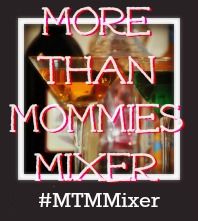 The fastest way to see 
success for your blog
 in a blog hop is to
 head on over to other blogs,
comment,
follow 
and ask them to swing by and party at your place!
Rest assured, Christine and I will visit each and every person who links up and we will follow you back!  We couldn't be more excited to get to know you and visit your "homes" on-line!
So what are you waiting for?  (Me to stop rambling, right?)  Jump in and let the MiXiNG begin!!!
Link up your blog for GFC/RSS below:
Link up your Facebook pages below:

Link up your Twitter handles below:

Link up your Pinterest pages below:
Visit Our Wonderful Highlight Sponsor of the Month:
(To See our
AWESOME
Black Friday
DEAL
, visit our
Sponsor Us
page)