Welcome to the first 
More than Mommies Mixer of 2013!
 Did you miss us? Because we certainly missed you!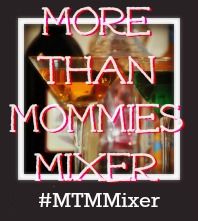 The holidays are over. One of the Christmas trees in my house has been taken down…but all other accouterments of the festive day remain.  

So what else have you missed?
Resolutions: Janene and I both took a crack at it. We talked about our goals during the last installment of the Sunday Sip Rewind and then Janene broke it down and talked about her commitments for the new year. And then finally I've issued a decree for myself: to be a better citizen of the blogosphere.
Janene and I can not wait to catch up with all of you–so let's get Mixing, shall we?
The Ins and Outs of The Mixer:
Our Mixer is designed to help you check out and share 
Blogs
, 
Facebook pages
, 
Twitter Handles
 and 
Pinterest Boards
!  
You can jump on all the Linkys or only the ones that you feel like doing this week.
  We will be here each week: so maybe you want to do GFC on your blog this week and Facebook next week, then hit up the Twitter Boards and Pinterest Boards the week after that.  It's totally up to you!
(Don't make us post bouncers at the door.)
Follow your Hostesses – Christine and Janene from More Than Mommies
Follow our Co-Hostess – Meredith at Mom of the Year
Follow the Life of The Party – Haley at Team Ibraham is our lucky tweeter in the spot this week. (we choose a different Life of The Party EVERY week! All you have to do to be in the running is Tweet about us using the #MTMmixer hashtag RIGHT NOW!Tweet #MTMmixer 
Follow our Mixologist – This week our Mixologist is Amy at Adorable Chaos. Every week we will choose one participant to get our party started at the #4 slot.  All you have to do is link up (and follow the "rules") to be considered!

Follow the person directly BEFORE you on the hop!  

Finally, we ask that you post one (or both!) of the following buttons in either a post or on your sidebar to let other people know where you are partying today!
Rest assured, Christine and I will visit each and every person who links up and we will follow you back!  We couldn't be more excited to get to know you and visit your "homes" on-line!
So what are you waiting for?  (Me to stop rambling, right?)  Jump in and let the MiXiNG begin!!!
Link up your Blog for GFC and RSS Subscribers:

Link up your Facebook Page:

Link up your Twitter Feed and don't forget to follow the thread for our hashtag (#MTMmixer) to keep up with everyone:Tweet

Link up your Pinterest Boards:

Visit our Highlight Sponsor:
(To See Your Blog or Business Here, visit our Sponsor Us page)