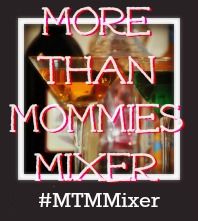 Did you hear the news? Janene is getting ready to move into her new home. In fact, she is closing on the house this week! She was looking for advice earlier in the week–so if you'd like to chime in–she definitely wants to hear from you!

Christine has been working on her resolutions but isn't certain she can keep up the pace she set for herself without becoming unraveled.  A bit of organization and prioritization is really what she needs more than any resolution.

We are throwing around the idea of switching The Mixer to a bi-monthly hop. That way we can really focus on The Mixer and for the off weeks we can participate more fully in other hops or bring you other fun stuff. I know many of you host your own hops on the weekends and we would love to be able to link up with everyone! If we switch the hop to twice a month we might be able to do more of that–thoughts?
The Ins and Outs of The Mixer:
Our Mixer is designed to help you check out and share 
Blogs
, 
Facebook pages
, 
Twitter Handles
 and 
Pinterest Boards
!  
You can jump on all the Linkys or only the ones that you feel like doing this week.
  We will be here each week (but maybe every other week): so maybe you want to do GFC on your blog this week and Facebook next week, then hit up the Twitter Boards and Pinterest Boards the week after that.  It's totally up to you!
(Don't make us post bouncers at the door.)
Follow your Hostesses – Christine and Janene from More Than Mommies
Follow our Co-Hostess – Stephanie at When Crazy Meets Exhaustion
Follow the Life of The Party – Nicki from Nicki's Random Musings is our lucky tweeter in the spot this week. (we choose a different Life of The Party EVERY week! All you have to do to be in the running is Tweet about us using the #MTMmixer hashtag RIGHT NOW! Tweet #MTMmixer
Follow our Mixologist – This week our Mixologist is Ramona at Create with Joy. Every week we will choose one participant to get our party started at the #4 slot.  All you have to do is link up (and follow the "rules") to be considered!

Follow the person directly BEFORE you on the hop!  

Finally, we ask that you post one (or both!) of the following buttons in either a post or on your sidebar to let other people know where you are partying today!
Rest assured, Christine and I will visit each and every person who links up and we will follow you back!  We couldn't be more excited to get to know you and visit your "homes" on-line!
So what are you waiting for?  (Me to stop rambling, right?)  Jump in and let the MiXiNG begin!!!
______________
 Add your Blog URL for GFC and RSS Subscribers:

Add your Facebook Page:

Add your Twitter Handle:

Add your Pinterest Boards:

Visit our Highlight Sponsor:
(To See Your Blog or Business Here, visit our Sponsor Us page)