So how did everyone do this first week?
I'm happy to report that I have had some success and I cannot wait to read about how your first week with the Feeling Fly by The Fourth of July Challenge went. So please don't forget to link up your post below or let us know your results in the comments.
Also, don't think that because we are already underway that you cannot be part of the fun! All it takes is a willingness to improve your health and fitness and a little commitment from you and we will welcome you with open arms. Read all about the challenge and then give it a go!
I thought I would recap my goals and let you know how I fared on starting to meet them:
My Goals for this Challenge:
Reduce my consumption of sugar and bread:

Eat a balanced diet  

I think I did pretty well here, despite date night this week which had me eating out and indulging in a few mixed drinks.  Keeping a food journal really helps! 

Exercise at least four times a week for 30 minutes minimum

(include both cardio and strength exercises)

I started out slowly on this front this week. I tried to squeeze in a walk when I could. Instead of sitting on my butt while waiting for the girls to finish dance class, I hit the streets with my earbuds in and got caught up on a few podcasts I enjoy. 

Lose 20 – 25 lbs

at a rate of 2 lbs per week I'm on track here! Those following me on MyFitnessPal saw that I lost 3.3 lbs this week. Hopefully I can keep heading in the right direction.

Drink more water

I wasn't keeping track before, but I do like water and will drink it when I'm thirsty.  I'd still like to see myself drinking more than I did this past week. I'm trying to keep my glass full and in sight at all times!

Do not skip meals

and healthy snacks. You don't have to tell me to eat. I knew that I wouldn't have a problem meeting this goal.

Get 7-8 hours of sleep per night.

I'm also pretty lucky on the sleep front. I made a pact that I would go up to bed at the same time that my husband retires for the evening (10pm sharp!) He has to wake up VERY early. I do not. So as a by product, I always manage a solid 7-8 hours every night.
In other fitness related news,
I've decided to give Insanity another go. 
I was working through the program last year at this time.
I even blogged about my journey through Insanity
(
Part One
and
Part Two
). I completed the program and had never felt stronger. 
Let me remind everyone: if you don't use it, you lose it.
I took the fit test today and my results…well…let's just say it
wasn't as bad as the first time,
but it was a lot worse than where I ended.
 sad face. 
I'm not sure I will really be able to commit to
working out six days a week
(thats how the Insanity program goes–one rest day), but something is better than nothing. I never did a workout that made me hurt so bad, yet feel so good. So,
here we go again. 
If you would like to join us, grab a button: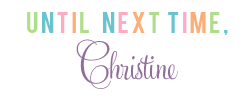 Please link your week one update post here AND/OR leave your MyFitnessPal Profile link–so that we can follow you!