Happy Mother's Day all you More Than Mommies Readers!

It is, of course, a special day for all of us . . . even if the pampering *read – breakfast in bed* often results in a bit of extra work for us . . . like a trail of cereal to clean up and a pot of coffee to re-brew *how many scoops??* we love that our little ones are focusing on US today!


While you are enjoying some extra strong coffee this morning . . . also enjoy meeting this week's Sunday Sipper!




What's in your cup this Mother's Day morning, Jen?

Tea, always tea. English Breakfast with lemon. NEVER without lemon!
How about an

introduction

for our readers?
I'm

Jen

formerly from

Break the Parenting Mold

and now from

My Skewed View

.
Break the Parenting Mold

? That's an interesting name. How did you come up with that one?
Honestly the name

grew out of my frustration

with other parents. See question #5. I

wanted parents

to literally

Break the Parenting Mold

, the parent they

"thought"

they should be, the parent society was

telling

them to be.
Then you

changed

your

name

. . .
I changed my name

from Break the Parenting Mold

to

My Skewed View by Jen Kehl

because I realized I had

moved beyond

being a

parenting blog

and was featuring so much more of

my own work.

I have always wanted to blog about

music and write some original fiction

. As my son has gotten older and moved past many of his

Sensory Challenges

, the urgency to write about those things has gone. I still love to write about

his antics

and at least one post a week is still about what my son has

destroyed/accomplished/said

. I also want to continue to support readers who find me because of my posts on

Sensory Processing Disorder

. However, with this change, I feel freer to showcase my weekly feature, Twisted MixTape 

Tuesday

 where I create a 5 song mix based on a theme and ask my readers to join in. I am exploring my fiction writing by participating in a prompt called

100 word song

, where I am writing a continuous piece of fiction in 100 word posts each week. I also blended my separate photography blog into this new blog in the form of a

photography page

. 
The idea of My Skewed View came as I was brainstorming where I wanted my blog to go with a friend. I wanted to somehow convey how my brain works in a concise manner. I am definitely

not

a

stereotypical

anything. I am a

homeschooling, ex-deadhead hippie, conservative, tattooed, God-Fearing, photographer

who creates

soundtracks

in her mind for every moment in her day. I am also parenting a child with multiple special issues and a touch of pyromania. How else could you describe my

View

but as

Skewed

?
What is one post that you want everyone who comes to your blog to read and what was your inspiration for writing that post?  
I recently wrote a post called

Sensory Processing Disorder Can Be Funny Too

, it is my way of reaching out to the people who maybe came to me because of my Sensory Processing Disorder posts, but have found a more

humor

based blog

now

. I wanted everyone to know that Sensory Processing Disorder does

not

have to be treated so

dramatically

, coming from a place of

love and humor

can give you a

fresh perspective.
What was the

reason

you started to blog?  Have you

stayed true

to your original vision since the

beginning

or have you changed along the way? Where do you see your blog

going

and

growing

to in the future?
My son suffers from
sensory processing disorder
,
multiple food
and
environmental allergies, severe eczema, asthma
and
a tic disorder
. I know it sounds like a lot, but we live a
perfectly normal life
. My tenaciousness when it came to
educating myself
about all of these things, and
doing exactly
what the doctors and therapists asked me to do, created a
close relationship
with his
healthcare providers.
Because of this they often asked if they could have other parents call me. Some did, but some were too
embarrassed
to. I also had friends call me a lot when they realized they were dealing with one or more of these issues as well. This is where my

frustration

began, so many parents just could not see that

it wasn't about them

. 
They

could not or would not

be the

advocate

their child needed them to be. They were so concerned with how the world viewed their child or them as a parent. They often

blamed

the child for his behavior, or

refused

to dig deeper when they were presented with a diagnosis. So I created this blog so that I could say what I really wanted to say, without having to confront them to their face. I created a

business card

, the therapists, doctors and my friends passed it around and people were able to come to me anonymously for help and information. It was really

impossible

to stay completely true to my

original vision

, because my son

grew

. We did all of the things we were supposed to do regarding the sensory issues and they got better (see the blog post). I still blog some about our struggles with allergies, but the thing is my son is

quirky

and

hysterical

,

BECAUSE

of all of these things, well and of course his

God-given

personality.  
So I had to write about the

funny stuff

. 
Also I just

had

to write. I have always wanted to be a writer,and it felt good to write. In the future I see myself continuing with the

occasional anecdotes

about my sons issues, but really he has become excellent fodder for humor. Also, I just want to write, and recently have been more open to just

expressing myself.

So I see my blog becoming more of a blog about

me

, which includes life with

my son

, and

my husband

. Who has

ADD

by the way, so he's

good fodder

too.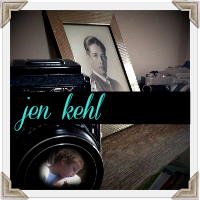 Finally, at More Than Mommies we know that being a Mommy is rewarding and exciting on its own, but we also know that there is more to every Mommy than her Mommy duties.  So, what makes you "More than a Mommy"?
I love to

write

, of course. I love to

read

, a lot. I am always reading something. I got my

degree in photography

and truly

love

taking pictures. My blog is full of them, although they are not as artsy as they were in the olden days

I also

love love love

music. There is always music in my house, and almost always

singing

. I wish I could play guitar and be my own one man band….but since I can't my iPod is either sifting through the over 5000 songs I have, or now,

Pandora

has really become my go-to, because really? I can't even figure out what songs I want on my

iPod

anymore.
——————————————————————————————
Thanks, Jen! Hope you have a fantastic Mother's Day and thanks for chatting with us today!
You can follow Jen at her blog, on Facebook, Twitter, G+, Pinterest and Instagram . . . We do!