We have an ever increasing TO DO list for the blog. You have one of those too, whether it's for home or blog, right? It seems for every item we check off, three others are added in its place! One thing that was on our list for quite a while was creating A Media Kit for More Than Mommies.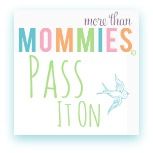 A Media Kit seemed like a must have…but why exactly? And how exactly? The answers to those questions were elusive, and so we procrastinated the task at first. 
What is a Media Kit?
A Media Kit, you may also see it called a Press Kit, is information put together in an eye catching way to provide potential advertisers with the information that they need to help them decide to work with you. A Media Kit is a resume for your blog– a BRIEF summary of your background, skill set, and experience.
If you've searched "Media Kit" at all online, you may be feeling more overwhelmed than you were before you began! Everyone has a different opinion, and there are so many different styles out there. It seems that when it comes to creating a Media Kit, anything goes. 
Your media kit should definitely represent your style. While it seems that 'anything goes,' that isn't the whole truth. We are giving you a list of things to include and tips to keep in mind when you sit down to create your media kit. 
Keep it Brief–

"I love sitting through a 10 minute YouTube video," said no one ever. We've all met that person who gives in to the temptation of honking their own horn for an extended period of time. Those on the receiving end are plugging their ears and running away screaming (if only in our head), or clicking away from your video, or tossing your media kit. So keep your media kit short: 1 to 2 printed pages. Include relevant information only and edit yourself.

Stand out in a crowd–

In the "olden days" when people handed out printed resumes, everyone was searching for a way to make theirs stand out in a stack of black and white resumes. You know the gimmicks: Fancy Paper, An Interesting Font, Graphics etc. And while your media kit doesn't have to be fancy, it is okay to let your personality shine through! Create something uniquely you. 
Include Key Information–Brands would like to know something about you and your blog so include:

 
A brief Bio–

a little something about you and your blog. Include your location, your blog niche (if you have one), and your hobbies and interests

Contact information–

an e-mail address or phone number, and your social media profiles (Facebook, Twitter, Pinterest)

Blog stats– like monthly pageviews, unique visits, visits in general (you can find reliable information if you take a look at Google Analytics), Google Rank, or Alexa Rank are also good numbers to include as well as your follower counts for Facebook, Twitter, etc. 
Past work–

Show brands what you can do! If you have written a review or worked with other companies, show off your skills by highlighting that work. You can also highlight your most popular posts or work that you are most proud of. 

Testimonials–

When you successfully work with a brand or PR Firm you may ask them to provide a brief testimonial about you or your work. You can also ask your readers for a testimonial and include one or two in your media kit

A list of your services–

You may or may not include a price list. We chose to set our prices, but leave them off of our media kit so that we could have a talking point when we follow up with potential clients. But we did include a list of options for our clients to choose from. 

Make it accessible–

link to your Media Kit from your site and have your media kit saved as a PDF that can be uploaded to your site and available for download and printing. 

You have a few choices when it comes to the HOW of creating your media kit:

Janene and I started out using Picmonkey to create the components of our kit and then we copied those into a Google Doc that we saved as a PDF. Uploading the kit into a Google Doc gave us the option of providing a link to  it so that anyone who wants it can view or print it out.

Creating our media kit this way gave us the ability to create something  visually pleasing, but to be truthful, updates are proving to be tiresome. And

it is important to keep your Media Kit current!

We are always revisiting ours and tweaking it and updating it as we see fit. 

Another option, perhaps just as visually pleasing if not easier to update, is to create a media kit using Power Point. We've made things even easier for you by creating a basic template that you can download and use to create your own media kit! 

Another FREEBIE from More Than Mommies? It's because we love ya and we hope you will feel free to Pass It On! 

Do you currently have a Media Kit? Why or why not?

Pass It On is a blog series we created to allow bloggers to share information about the blogging basics in a simple straightforward way. Visit Pass It On to see more in this blog series and please share the information with those who would find it helpful! Feel free to grab our button to share with your readers: