Welcome to The More Than Mommies Mixer!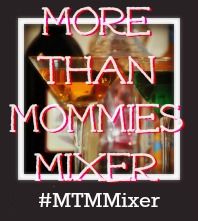 /
We have a lot of new things going on with the Mixer so let's jump right in!
First, did you VLOG about the Mommy TMI questions?  Did you do a VLOG about something else or a post about the Mommy TMI questions?  Check below (with all the other linkys) for a special link-up to enter your VLOG/Mommy TMI post!  We can't wait to see all your faces and hear your answers!
Next, did you know that we are having our very first More Than Mommies Twitter Party???  It will be on Friday (June 28th) at 11:00.
RSVP Here:  http://twtvite.com/MTMMixer
Join the Party Here:  http://twubs.com/MTMMixer

or you can follow along right from the box below!




Now that those two bits of excitement are finished -let's get to the Party!







Here are the "rules"
(Don't make us post bouncers at the door.)

Follow your Hostesses – More Than Mommies

Follow our Co-Hostess – When Crazy Meets Exhaustion

Follow the Life of The Party – Vegan Mama Eco Baby – We will choose someone who signs up via Twitter on the Linky below to be our LOTP each week. We love to keep up with all of you on twitter–so tweet with our hashtag (#MTMmixer) so we can find you!
Tweet #MTMMixer


Follow our Mixologist – Mrs. AOK – Every week we will choose one participant to get our party started at the #4 slot. All you have to do is link up under the first Linky (and follow the "rules") to be considered!

Add your Post/Twitter ID/Blog URL to the Linky it belongs in.

Follow the person directly BEFORE you on the hop!


Comment on any Mommy TMI Posts you visit!  We all love comments so SPREAD THE LOVE!
Finally, we ask that you post one (or both) of our buttons in either a post or on your sidebar to let other people know where you are partying today!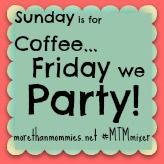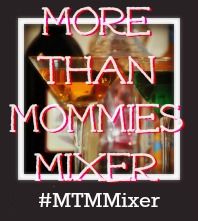 Link up your Blog Here:


Link up your Mommy TMI Post Here:


Link up your Twitter Handle Here: