I was lucky enough to attend a webinar on
Hashtags and Facebook
by
Kim Garst at Boom Social
last week.  It made me think a lot about how little I actually knew about using
Hashtags
in general.  I figured I'd do some research and then
Pass It On
to all of you – see how I did that,
Pass It On
, smooth, right? – because my guess is you aren't paying as much attention to
Hashtags
as you should be either!
(tips at the end . . . don't miss them!)
Christine and I focus on 5 major social media outlets:
Twitter
,
Facebook
,
Google +
,
Pinterest
and
Instagram
.  They don't all get the same amount of attention from us but we do post regularly on each of them.  I discovered that we can benefit from using Hashtags on all 5 of these sites!  Let me break it down for you.
What:
So, what exactly is a hashtag?  You've seen them . . . they look something like this: #MTMMixer – that just so happens to be the hashtag that you will use for the
Twitter Party on Friday
during the Mixer.  Each site has slight variations on how to use the hashtag and why to use the hashtag.  But on ALL of them a hashtag is the # symbol followed by a word or group of words with no spaces in between them.  So – #MTMMixer (YES)  #MTM Mixer (NO).
Why:
Why use a hashtag?  On all the sites mentioned above the MAIN reason to use a hashtag would be because it makes your post searchable by that hashtag.  To use #MTMMixer and our
Twitter Party
as an example – you can search the hashtag #MTMMixer and see all of the people tweeting about it!
That's how you participate in the conversation.  If you see a hashtag that you know something about popping up on Twitter, jump in and use the hashtag, too!!!
On Facebook and Google +, searching a hashtag will bring up any posts that have that hashtag attached.
On Instagram (I used gramfeed.com to search the hashtags), you see all of the pictures with that hashtag attached.
On Pinterest, though, you see posts containing the hashtag AND the word itself without the # symbol in front.
I read somewhere that hashtags are like the index of the internet.  Use them and people will see your content connected to subjects.  That includes other bloggers AND brands looking to work with bloggers on specific subjects.
Where and How:
Here's how a hashtag search looks on each of the Social Media Sites listed above:
Facebook Hashtag Search for #MTMMixer
Google + Hashtag Search for #MTMMixer
Gramfeed Hashtag Search for #DoYourMakeup (which my daughter is obsessed with right now)
Pinterest Hashtag Search for #cocktails
(which I am obsessed with right now)
Twitter Hashtag Search for #MTMMixer
Finally, how to make the most of hashtags – here's some tips I learned:
Use personalized hashtags.  If you talk about food on your blog, come up with a unique hashtag that falls under your genre.  To check and see if it is unique, just do a search for it.  Then USE IT!
Only use 2 hashtags when posting.  I know it's tempting to overload a tweet or post with a ton of hashtags but if you do that you are going to annoy your readers and that means they won't stick around to read all the wonderful things that you are using hashtags for!
Pick 6 – 8 hashtags that you feel you can use for posts and try to stick to them as much as possible.  Having your posts show up in a feed that you are writing about over and over will make you look like an expert!
Avoid Acronyms – they are confusing to people who don't know what you are talking about.  For example, #GOT is one of my favorite cable TV shows . . . do you know what it is?  Not if you don't watch it and that's annoying.
Capitalize the first letter of each word in a hashtag.  #RockingRecipes is so much easier to understand than #rockingrecipes, isn't it?
Keep it relevant – don't use a hashtag that has nothing to do with your post. That's just misleading and annoying.
Anything I missed?  I'm sure there is a lot!  I'd love to hear your thoughts on how you use hashtags and why or why not?
If you found this post helpful or informative then: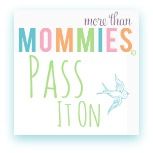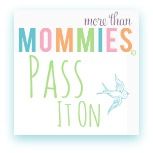 Pass It On!
Pass It On is a blog series we created to allow bloggers to share information about the blogging basics in a simple straightforward way. Visit Pass It On to see more in this blog series and please share the information with those who would find it helpful! Feel free to grab our button to share with your readers: