Welcome to the *yawn* More Than Mommies Mixer!  (excuse the yawn . . . but this is the first week of school in these parts and this mama is TIRED!)
So far, things have been slightly crazier than I expected.
I guess it is important to take into consideration that I am back to work (teaching preschoolers) with a new schedule.  All 4 of my kids are in new schools and we are adjusting to a new district, new bus schedule and all those fun things.  Plus, Dean just got his cast off after 6 weeks and isn't walking well at all . . . it's the twins birthday this weekend – we are having a party on Saturday – and our basement still isn't "fixed" from our little flood last weekend.  I kind of feel that my head is spinning but I'm so tired I haven't been able to keep my eyes open long enough to know for sure.
BUT –  I refuse to be a party pooper – even though we know "Every Party Has a Pooper!"  (10 bonus points if you can name the movie Martin Short sings that song in down in our comments – bonus points are good for . . . well, my love and admiration!)
So . . . without further ado – here's the link up and rules for this week's Mixer!  We are keeping it short and sweet again!  Hoping that you all will help us spread the word and get your friends to come and join the party.
Speaking of parties . . . before I let you get down to business . . . I just HAVE to remind you that we will be partying at the #MTMMixer on Twitter at 11:00 AM on Friday!
Here are the "rules"
(Nice and Simple this week!)
Follow your Hostesses – Christine and Janene from More Than Mommies
Follow our Co-Hostess – Meredith at The Mom of the Year
Add your Post/Twitter ID/Blog URL /Facebook Profile/Pinterest Boards to the Linky it belongs in.
Follow the person directly BEFORE you on the hop!
Finally, we ask that you post one (or both) of our buttons in either a post or on your sidebar to let other people know where you are partying today!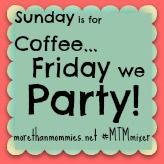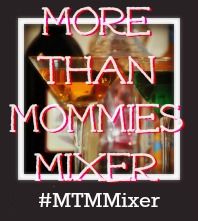 Link up your Blog Here:

Link up your Mommy TMI VLOG Here:

Link up your Twitter Profile Here:

Link up your Pinterest Boards Here:

Link up your Facebook Pages Here: