Good morning everyone!
The Sunday Sip is a little late today because . . . well . . . life got in the way.  We always try to schedule this one the day before so you can all enjoy meeting a new blogger while you drink your coffee, tea or whatever it is that fills your cup on Sunday morning.  However, yesterday was a busy busy day for both Christine and I and I totally forgot it was my week to write the post!  She was too busy to remind me.  Which means I didn't remember until I was snug in my bed at 12:30 AM this morning.  Luckily, the Sunday Sip feature blogger is a totally amazing and forgiving gal – I learned that when she put up with my craziness for a weekend away!  I was the basket case of our group (worried about everything) and she was totally understanding about my nuttiness!
So, without further delay . . . I give you one of my FAVORITE bloggers, Stephanie from When Crazy Meets Exhaustion!
Good Morning, Steph!  Thanks again for coming back and doing another Sunday Sip with us!  
Of course, we know you as Stephanie . . . but I'm sure that there are some people out there who refer to you by your blog name – When Crazy Meets Exhaustion – when they talk about you using your blog name, what are your hoping they are thinking?
Well, isn't this an interesting question! Hmmm…well, I hope they think, "Hey, she's a bit off her rocker, but she's fun! And she has three kids and a full-time job and a husband who can't flush the toilet, so of course she's exhausted! Send chocolates immediately!"
Send chocolates immediately . . . why didn't I think of a blog name that would invoke that kind of response!
We love you and would have serious doubts about anyone who disagrees with us when it comes to how awesome you are!  For those readers who don't know much about who you are, tell them some stuff about Stephanie.
I'm an English teacher by trade and a smack talker by nature. My daughter is almost 3 and an exact replica of me, so in a sense, I'm seeing myself for the first time. To my parents, I apologize.
Anyhoo, I'm married to the perfect man for me; we're working on 8 years of wedded bliss and three kiddos (the third is due this April, depending upon when you're reading this, maybe I've already popped?!). Our son is perfection like his father, our previously mentioned daughter is a pistol like her Mama, and we're hoping #3 is a nice mix of the two.
While I adore nothing more in life than my family, I needed a creative outlet after birthing humans and switching from a work-outside-of-the-home woman to a WAHM.
Enter: my blog. At first, it was just for fun. Now, it's another family. I've met and continue to meet ridiculously amazing people (ahem, Christine and Janene) by way of writing and that is the ultimate pay-off.
Blogging has also led to some freelance work (I'm currently on staff at Aiming Low and Families in the Loop), and WILL BE PUBLISHED FOR THE FIRST TIME this spring. WEEEEEE!
(You can check out Stephanie's book – I Just Want to Be Alone on Amazon!  We are sooo happy for her and the other blogging gals that we love who are featured in the book!)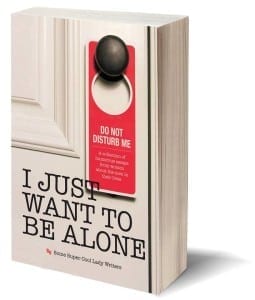 We have no doubts that you are a social media maven . . . which is your FAVORITE site and why?
Even though it's constantly changing and confusing me,Facebook. I think I'm most active on there because I have the biggest following there. Also? Twitter limits me, man. I'm an English teacher; we like words.
We can't imagine picking only 3 . . . but since we can't link to ALL your post . . . what 3 posts would you like our readers to head on over and check out?
1. Project Optimism: We All Survived–I love this post because, after writing it and inadvertently grabbing the attention of some bloggers I admired, I realized I was a story-teller. I had been trying to find my niche in the world of the written word, and I think this solidified it for me. I can share the simplest experience and still get people to laugh and relate. Score.
Last but not least . . . what are you passionate about besides blogging?  What do you REALLY love?
Writing. Really. Oh, and napping, but like THAT happens any more.
Thank you so much, Stephanie.  We are soooo excited for all the awesome things coming up for you – and you can totally expect us to come over and snuggle that newborn when he/she arrives!  We will also bring food and chocolate because we know the way to your heart!
——————————————————————————————————————————–
You can check out Stephanie in all her Social Media hotspots:
If you are interested in being featured in our Sunday Sip . . . check out our interest page and fill out a form!  We would LOVE to have you!